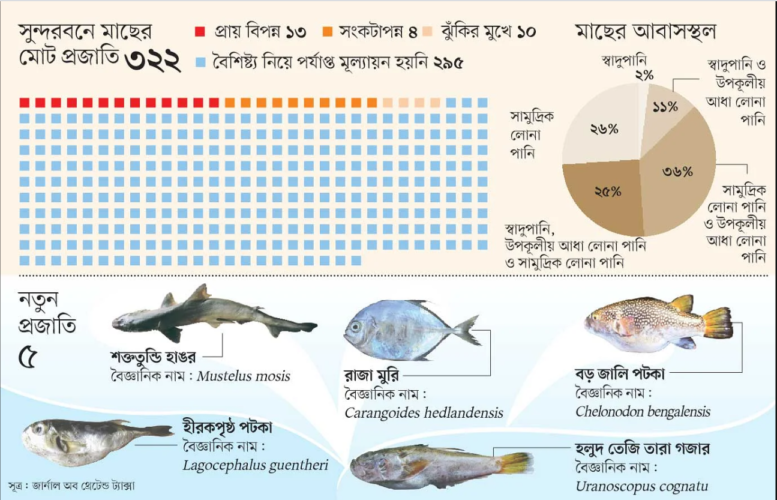 Bangladesh is more rich in fish diversity
Bangladesh is more rich in fish diversity

The Prothom Alo
April 14, 2021
Bengali in fish and rice — this proverb is enough to highlight the abundance of fish in Bangladesh. According to the United Nations, Bangladesh ranked third in the world in freshwater fish production last year. But still, dissatisfaction remains. Because Bangladesh was far behind in the diversity of fish species.
However, that dissatisfaction has also subsided somewhat. Because experts say, the number of fish diversity in the country has increased a lot in 50 years. In all, the number of freshwater and marine fish species in the country is now more than one thousand.
According to the latest figures of the United Nations Environment Program (UNEP) (2019), there are 589 species of fish in Bangladesh. As such, Bangladesh ranks 100th among 221 countries and islands in the world in terms of fish species diversity. However, the updated data prepared by a team of researchers led by Kazi Ahsan Habib, Dean, Faculty of Fisheries, Aquaculture and Marine Science, Sher-e-Bangla Agricultural University, says that there are only 640 species of marine fish in the country. Meanwhile, there are 284 official freshwater fish species in the country. Adding these two calculations, the number of fish species in Bangladesh stands at 1006.

The research team, led by Kazi Ahsan Habib, has updated the list based on surveys conducted over the past 50 years on the diversity of marine fish in the country. For this, they have reviewed various research articles, related books, and research reports published in local and foreign journals. The latest research report is published in the latest issue of the Bangladesh Journal of Fisheries, an internationally recognized fishing journal from Bangladesh. The Fisheries Society of Bangladesh, an organization of people involved in research and development in fisheries, has been publishing this bi-monthly magazine since 1986. The latest issue was published on December 31.
Kazi Ahsan Habib told Prothom Alo, "Every year someone discovers new species of fish in the waters of the country. We have got this calculation by adding the lists of fish till 2020. A full survey may increase the number of species.
As per the UN Environment Program, India, Sri Lanka and Maldives are ahead of Bangladesh in South Asia in fish diversity. With 2,563 species, India tops the list in South Asia. The country is 11th in the global list. Sri Lanka ranks 32nd in the global list with 1,125 species. And Maldives is the 33rd country in the world with 1,122 species.
For details: The Prothom Alo