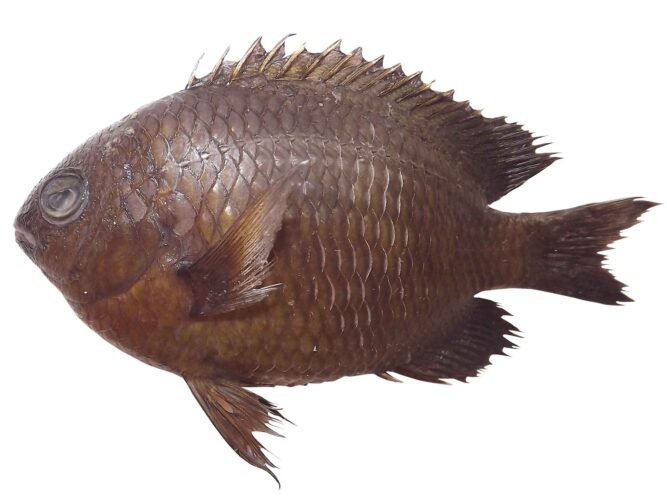 A new species of Damselfish discovered by ABR Lab from Saint Martin's Island, Bangladesh
Pomacentrus bangladeshius, a new species of damselfish (Perciformes, Pomacentridae) from Saint Martin's Island, Bangladesh
Researchers from Sher-e-Bangla Agricultural University have discovered a formerly unknown species of fish from St Martin's Island. A team from the university's Aquatic Bioresource Research Lab discovered the new-to-science fish known as 'Pettoli' by local anglers, the fish has been named Pomacentrus Bangladeshius (Bengal demoiselle).
Project leader Prof Kazi Ahsan Habib said, "We have listed about 120 species of fish that inhabit the coral ecosystem of St Martin's Island. We used scuba diving to conduct the underwater observations. During our research, we found this new species which lives in the shallow reef flats around rock and coral outcrops". The new species belongs to the Pomacentridae family, which is commonly called damselfish. It has a prominent notch present between its preorbital and suborbital, is olive to dark brown in color, and has a yellow iris with a narrow bronze eye-ring."
The new species was discovered during an investigation on the current biodiversity status of fishes associated with the corals of St Martin's Island, which ran from 2018 to 2019. Alongside Prof Habib, the team is comprised of three research assistants: Md Jayedul Islam, Najmun Nahar, and Amit Kumer Neogi. Prof Habib is currently serving as Dean of Faculty of Fisheries, Aquaculture and Marine Science at Sher-e-Bangla Agricultural University. The research was conducted through a competitive research grant of the National Agricultural Technology Program Phase-II project of the Bangladesh Agricultural Research Council.
This is the second new species discovered from Bangladeshi waters by the team. The first one was discovered by the Sundarbans. This research was published in the international taxonomic journal "Zootaxa".
According to the Catalogue of Fish of California Academy of Science, 422 species of damselfish have been identified all across the world.
For details: researchgate.